The CEO Elena Participates in AJ Cole's Nomination
as Raiders' Walter Payton Man of the Year
This year, Selection Insurance Agency won the Nationwide contest to participate in the kick-off of Nationwide's Charity Challenge in Las Vegas. 
At Allegiant Stadium, Elena joined the Raiders President Sandra Douglass Morgan and General Manager Dave Ziegler to present AJ Cole with a crystal trophy for his nomination as the Raiders' Walter Payton Man of the Year.
The pregame (Raiders vs. Patriots) nomination ceremony also kicked off Nationwide's 8th annual Charity Challenge, which gives Walter Payton NFL Man of the Year nominees a chance to score additional donations for their chosen charities.
Elena Chernogorova of Selection Insurance at AJ Cole nomination as the Raiders' Walter Payton Man of the Year.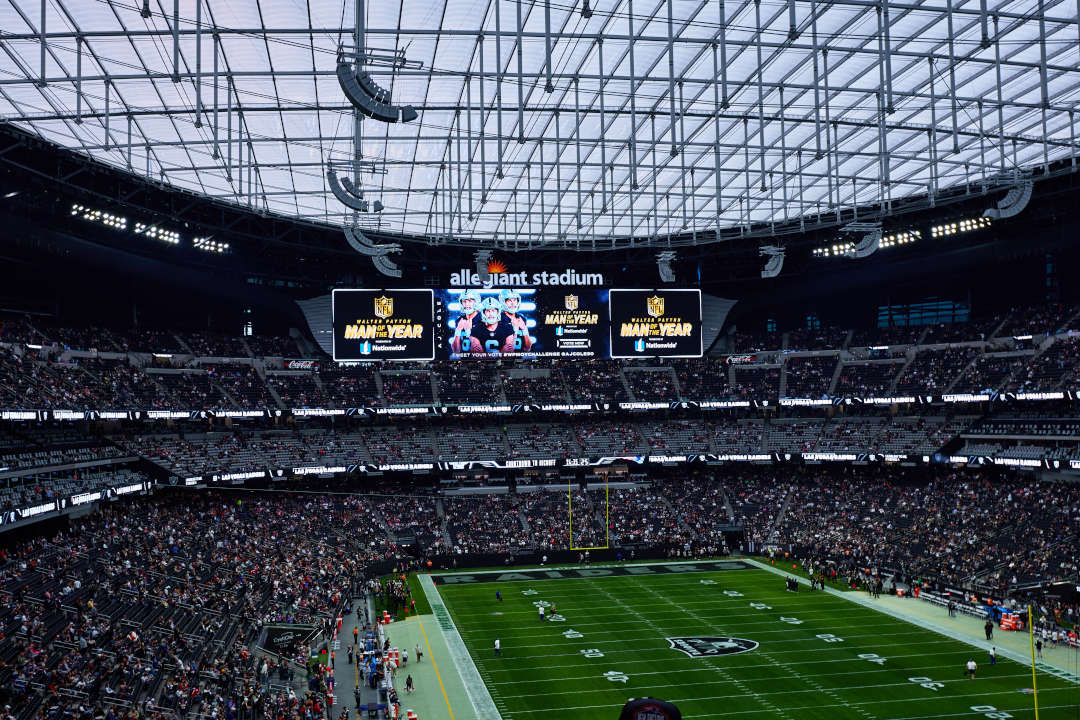 Images and video courtesy of Nationwide
The Walter Payton Man of the Year Award is an annual award presented by the National Football League (NFL) to recognize an NFL player for his excellence on and off the field.
The award is named in honor of former NFL player Walter Payton, who was known for his charitable work and community involvement in addition to his success on the field.
This prestigious NFL award is given to a player who has made a significant positive impact in his community and demonstrated leadership on and off the field. The winner is selected by a panel of judges and is announced at the NFL Honors ceremony.
In addition to recognition, the winner of the Walter Payton Man of the Year Award also receives a $250,000 donation in his name to a charity of his choice. All other nominees for the award receive up to $40,000 donated to a charity of their choice.
AJ Cole was nominated to be the Raiders' Walter Payton Man of the Year "for his excellence on the field as well as off it through his efforts to give back to the community, most notably with Special Olympics Nevada."
Thanks to Nationwide's Charity Challenge social media campaign, all nominated players can score additional contributions to their charity of choice. Nationwide and Selection Insurance Agency encourage all fans to participate and promote their team nominees.
How It Works
Fans can vote on Twitter Nationwide Charity Challenge by using #WPMOYChallenge followed by their favorite nominee's last name and/or his Twitter handle anywhere within the tweet. 

The player whose unique mention is used the most between Dec. 6th, 2022, and Jan. 11th, 2023, will receive a $25,000 contribution to their charity of choice, while the second and third-place finishers will receive $10,000 and $5,000 donations, all courtesy of Nationwide.
The Top-3 Charity Challenge Finalists will be announced on January 12th, 2023.
2022 Walter Payton Man of the Year Charity Challenge Official Rules.